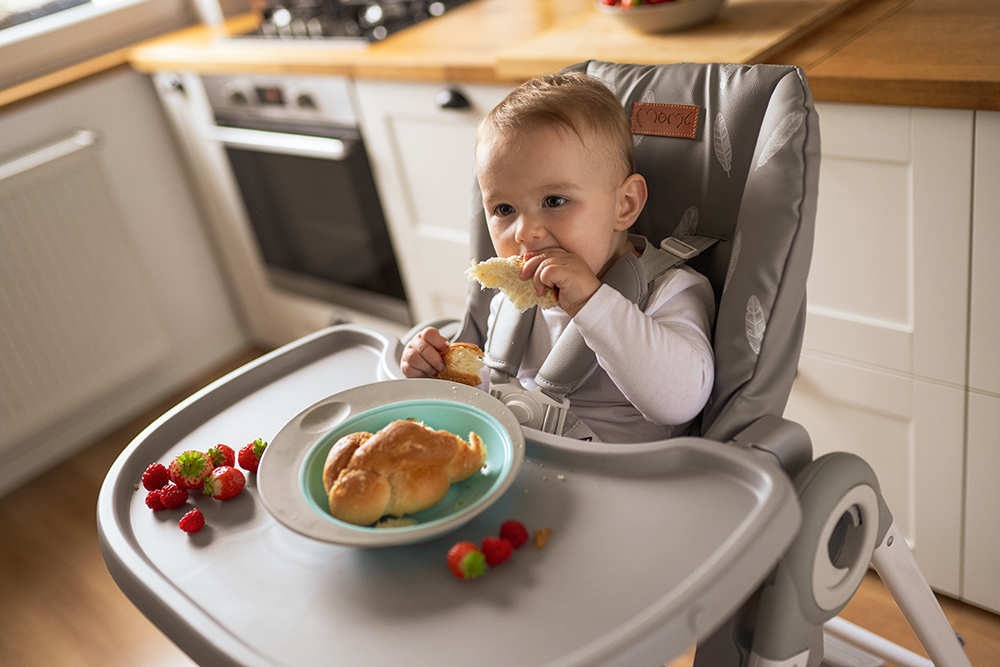 When the milk is not enough, i.e., the whole truth about adding new products to the baby's diet.
Milk, either breast one or a formula, is the basis of infants' diet. However, our babies soon reach the stage when just the milk is no longer enough as it is not able to provide all the necessary nutrients to them. This is when it is time to introduce other meals and face the challenge of adding new products to their diet.
You are certainly asking yourself a lot of questions. How to start that stage? What to give your child to eat? What to do to encourage them to try the food you prepare?
Have you ever thought how your child should sit to make the process of adding new products to their diet easier for them? Is the way they sit important?
Surely it is. It is very important!
Below, there are some tips which will help you to find a chair to support you during this new adventure.
Tip no. 1 Straight is good. Ensure that your baby's back is straight.
This is why your baby must be ready in terms of their locomotor skills to start the processes of adding new products to their diet. If you have any doubts if they are able to keep that posture on their own, provide them with an appropriate support. Set the chair backrest in the most upright position to create a straight angle with the seat.
What takes place in the baby's body if this posture is not kept?
The absence of the appropriate support results in the baby's buttocks sliding from the seat which affects the lower esophageal sphincter. This may lead to spitting up, vomiting and, in extreme cases, to the esophagus inflammation. This experienced discomfort will discourage your baby from continuing this important stage of adding new products to their diet.
Tip no. 2. Ensure balance to your baby!
At the beginning of the stage of adding new products to their diet, the baby is just learning to keep their balance. Find a chair to support them in this respect. Use the side support ensuring stability. MoMi feeding chairs have suitable "side cushions" which will surely help you as thanks to them you will avoid placing any nappies, cushions or other makeshift accessories which are going to slide down.
Tip no. 3. Pay attention to the baby's comfort!
Imagine that you are sitting on a bar stool and your legs are hanging in the air with no support. Is it comfortable? Not for any prolonged period of time, is it? Such a posture does not encourage even an adult to eat, not to mention a baby! Ensure comfort to your baby when eating by buying a feeding chair with a leg rest for them. It will help to keep the suitable posture.
Have you not been aware that those components determine the stage of adding products to the diet so much? Now, the key question is: Where can I find a chair to fulfill those requirements?
Do not panic. Luckily, you need not look for it long. For MoMi, your baby's safety and comfort are priorities which is why the MoMi feeding chair was designed to ensure absolute comfort to your baby when adding new products to their diet. MoMi chairs enable to adapt to the baby's needs fully, ensure the suitable posture, provide side and leg support. The chairs were appreciated by dietitian Agata Fierek–Dziurla from Gruszka czy Pietruszka profile who named MoMi LUXURIA as an excellent companion when adding new products to the diet.
You already know that MoMi feeding chairs are a good choice for your baby, but not only for them! Believe me, you will also be glad! MoMi offers you the following:
– A removable tray thanks to which you will be able to clean it easily following the meal. Believe me, you will have a lot to clean after the first attempts at autonomous eating.
-A double tray which can be dish washed. Convenience, comfort and time saving.
– An adjustable seat height which enables you to adapt the chair to every table height. This is crucial when the baby wants to eat their meals "like adults" at an "adult table"
-A unique design thanks to which the feeding chair will be not only a useful piece of furniture, but also the one easily blending in your flat space.
-And now the most important aspect! Certainty that you ensure a healthy posture and absolute comfort to your baby during this crucial stage of adding new products to the diet.
For more information about MoMi chairs, see: https://momi.pl/products/chairs
So, what about starting to add new products to the diet? You can do it! This is a really fantastic culinary journey.
*This article was written in cooperation with infant-feeding specialist, dietitian, Agata Fierek–Dziurla of Gruszka czy Pietruszka profile https://www.facebook.com/gruszkaCZYpietruszka
See the precious tips prepared for you by Agata: https://www.facebook.com/momisimplytogether/
Comments (0)
No comments at this moment